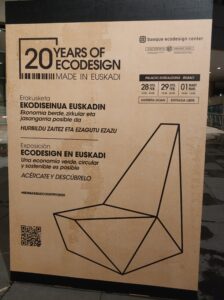 The 4th edition of the Basque Ecodesign Meeting (BEM), the biggest event on ecodesign in Southern Europe, was hold in Bilbao from 26th to 28th February. This event has the largest specialists in industrial product design from all over Europe and personalities in the field of ecodesign and the environment.
The content of these conferences was marked by the analysis of the implications that the transition to a circular economic model is having for European industry, together with the discussion of the business opportunities and improvement of business competitiveness that this new model offers us. The BEM 2020 event has emphasized that the circular and low-carbon economy is an irreversible process, in which citizens, companies and administrations must advance in cooperation. According to those in charge of the meeting, organized by the Department of the Environment, Territorial Planning and Housing, through the public company Ihobe, and the Basque Ecodesign Center, the idea of eco-designed products should be extended, that is, "prepared for durability and integrating recovered materials" and To this end, they have underlined as essential to have a "sensitized, trained and responsible consumer", labels that are "truthful and contrasted so that consumption can be educated, informed and aware" and legislation, policies and technical standards that, despite their complexity, are "clear".
The last session, on Friday 28th February, was dedicated exclusively to the new generations, under the slogan "The power of young people – Leaders in a new circular economy", where 200 students from universities and vocational training attended, and he took the opportunity to also present our INSIGHT project and the potential of industrial symbiosis as well as the new professional profile, Industrial Symbiosis Facilitator, which is being promoted by the consortium. During this fourth edition, it has been possible to reach new stakeholders who will be able to help in the validation of the Joint Curriculum in addition to participating in the pilot in the coming months of the project.