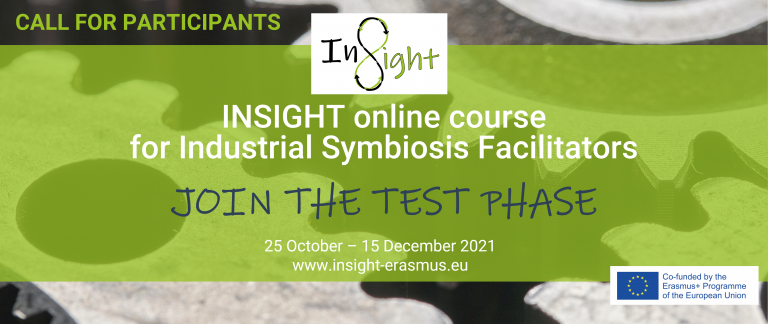 After several months of development, the INSIGHT training course is on its way! One last step is left: testing the online platform. This will enable partners to gather useful inputs from potential learners to be taken into account in the final phase of the course development.
The INSIGHT project is thus inviting participants to test its upcoming online course between 25 October and 15 December.
Are you a student or professional curious about the new professional profile of Industrial Symbiosis Facilitator developed by the INSIGHT project? Do you want to contribute to the INSIGHT project and to expand industrial symbiosis in Europe? Help us by testing the INSIGHT online training course before its final launch in February 2022.
What is the course about?
The INSIGHT course aims to train professionals for a new profile: the Industrial Symbiosis Facilitator. After following this course, participants will:
be equipped with the right skills and knowledge about Industrial Symbiosis from today and tomorrow;

have access to new job opportunities;

know how to boost businesses to adopt circular economy principles.
The course is organised in five modules, gathering the different materials developed within the INSIGHT Joint Curriculum:
Module 1: Industrial Symbiosis theory, concepts and context.
Module 2: Resource Management
Module 3: Industrial Symbiosis Management
Module 4: Soft skills for Industrial Symbiosis
Module 5: Industrial Symbiosis Case Studies
Discover the INSIGHT Joint Curriculum in detail here.
Why do it?
By becoming a testing participant of the INSIGHT training course you will:
Gain access in exclusivity to the entire content of the training course and materials;
Be part of the community of Industrial Symbiosis Facilitators;
Participate in the development of a unique training course and new professional profile;
Contribute to mainstreaming industrial symbiosis.
Next steps?
If you would like to participate in the test of the course, share with us your interest by filling in the registration form.
Deadline for registration is 20 October. You will then be contacted by email by one of the INSIGHT partners to receive instructions and more details on the testing process.
On 25 October the beta version of the INSIGHT platform will be open, and you can start testing the module, until 15 December.
If you have questions, contact us at info@insight-erasmus.eu