The Final Conference of the FISSAC project took place on the 29th of January 2020, in Brussels, and luckily for all of the attendees, it was not a traditional and static conference, but a truly participative and dynamic event. The participants could get an overview not only on the main FISSAC results but also on the current EU agenda regarding industrial symbiosis and the upcoming funding opportunities.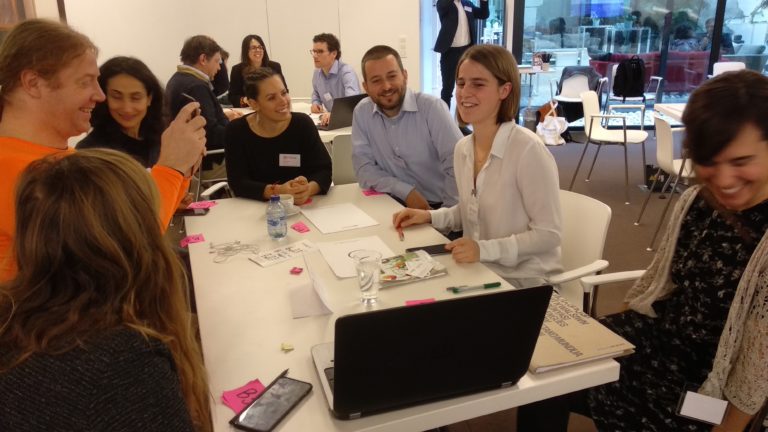 The Conference hosted the official launch of the FISSAC platform, an online tool aimed at visualizing potential industrial symbiosis networks and calculating their environmental, social and economic impact. 
INSIGHT was also introduced to the IS community as two of our INSIGHT partners joined the event. EcoRes hosted one of the seven ConverStations, open group discussions focused on the importance of developing a new professional profile in industrial symbiosis.
The participants were asked to think about a professional profile that could help implement industrial symbiosis initiatives in the construction sector. Several interesting ideas came out of the discussions: "we shall need industrial symbiosis facilitators, public procurement advisers, legal advisers to include industrial symbiosis in urban planning, circularity managers in large companies and please, more IS teachers at schools and universities!".
The conference ended with a panel discussion, where Símbiosy had the chance to show the main outcomes of the FISSAC Living Labs and join the common debate about possible enablers for an actual IS implementation in the construction business. Some of the most relevant were: to facilitate an action space, to quantify and communicate the impacts within a territory, experiment and explore new business models without burdens, improve capacity building, set targets to decrease raw materials usage, boost favourable legal and regulatory frameworks and last but not least… make it cool!
Learn more about the FISSAC project:
Learn more about the FISSAC platform:
Learn more about the FISSAC Living Labs: