To find the way through which to pursue Industrial Symbiosis and contribute to the success of INSIGHT it is necessary to combine different perspectives, knowledge and resources.
Stakeholder engagement was composed of 60 interviews involving 7 different countries.
Stakeholder contributions and case studies reported in the INSIGHT project have shown a widespread interest in IS by several industrial sectors, enabling also to highlight different points of view on IS implementation.
The maturity of companies apparently does not influence the access to IS actions: older and younger enterprises are equally interested in IS, whether from the public (46.67%) or private (53.33%) sector.
Just as their sectors of origin are extremely diverse, so the IS actions encountered are particularly diversified. The most common IS kind of action is the Material Valorisation (87%) while the Energy Exchange is the weaker (23%). Figure 1 illustrates cases' distribution at a glance:
Figure 1 IS Initiatives (multiple choice in answering)
Some actions included in the material valorisation are:
recovery of animal waste from slaughtering processes transformed into protein flour;
the valorisation of a chemical co-product in the manufacture of fertilizers and in tannery process;
the wastewater treatment converting into composite construction materials;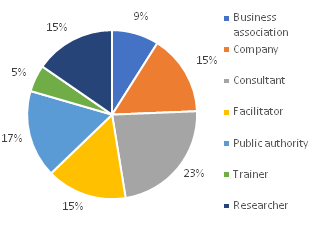 The profiles of the stakeholders interviewed in the INSIGHT project included skills, competences and knowledge necessary to frame the emerging profile of an IS facilitator. INSIGHT stakeholders' composition reflects the plurality of inputs in starting the IS, with a predominance of National/regional Authorities' initiatives and Companies' waste issues.
Coming from 15 European countries, they represent a multiple target structured in: Public Authorities (17%), Private companies (15%), Consultants (23%), Researchers (15%), and those who already act as IS Facilitators (15%). The IS resource matching platforms have been included in the "Business Association" cluster, due to the fact of the BA involvement in promoting these tools among enterprises.
Some similarities between Consultants and Facilitators have been found, but compared to a focused expertise of consultants, facilitators show a more "generalist" expertise.
Besides the 5 countries of the INSIGHT's partners, stakeholders come from further 7 European countries (Croatia, Netherlands, Bulgaria, France, Luxemburg, Ireland, Sweden), 2 non-European countries (Turkey and Switzerland) and the United Kingdom. The variety of countries of INSIGHT stakeholders' targets remember us how widespread the IS community is.