The INSIGHT Consortium has been making the most of the COVID-19 crisis and has been participating in different series of webinars during the past weeks. By way of example, all INSIGHT partners joined the Circular Berlin's first digital meet-up, "From 5 to 75: Lifelong Learning in a Circular Economy," on the 27th of April.
The webinar was a dynamic event, where 40 participants had the chance to learn about German initiatives related to circular training and education programmes and to exchange their ideas through the chat, breakout rooms and several polls. INSIGHT Consortium had the opportunity to share its project and the results obtained from the key study carried out on current knowledge, skills and qualifications regarding Industrial Symbiosis.
During the course of the session, four different projects were presented:
Mifactori shared how their Kreislaufschule (Circular School) programme engages school children in circular economy workshops.
Source: Kreislaufschule | https://mifactori.de/5a/
Akademie Mode & Design presented the experience in engaging design students in hands-on upcycling work and problem-based learning, what was also explored through the project Upnovation.
Source: Upnovation project | https://upnovation.de
The TU Berlin presented their proposal for the principles of a circular society:  accessibility and transparency, democratization and empowerment, collaboration and communality, and social innovativeness and creativity. You can find more information about this topic in their last publication "From Take-Make-Dispose to a Circular Society".
Finally, the Circular Berlin team shared some of the most relevant learning outcomes from their collaboration with professionals through Circular Berlin's workshops. 
The webinar ended with a joint discussion about the skills needed to make the circular economy happen. Guess what! Exactly, once again, the soft skills were the protagonists of the conversation. The most repeated results were collaboration, creativity, communication or system-thinking, in line with the first conclusions obtained from INSIGHT Consortium in its key study.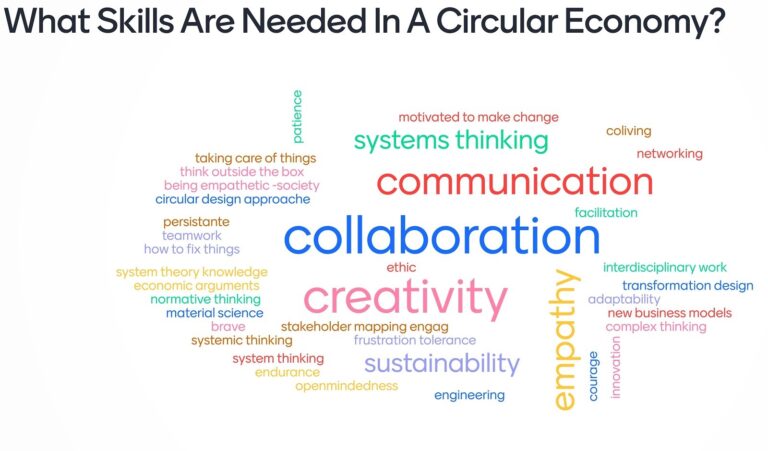 Source: Circular Berlin | https://circular.berlin/from-5-to-75-lifelong-learning-in-a-circular-economy/
You will find more detailed information about the webinar here.
Happy reading!
The INSIGHT team.