To support the European Commission's strategic vision of a climate-neutral Europe by 2050, the Innovation Fund was launched by EU in July 2020 to complement the best-known funding programmes such as Horizon2020 and Environment and climate action (LIFE).
This program aims to foster the EU's path towards carbon neutrality by improving the competitiveness of EU industries and increasing resource efficiency.
The Innovation Fund budget for the 2020-2030 period is around EUR 10 billion, and it is financed through ETS credits. Created on the previous experience of NER300 program, the Innovation Fund expands its green focus, promoting solutions that actively support decarbonisation, and offering funding in a more flexible way to comply the EU's economic development scenario with the 2015 Paris Agreement.
The Innovation Fund contributes to the reduction of greenhouse gases (GHG) by focusing on:
Innovative low-carbon technologies and processes in energy-intensive industries (steel, cement, glass, chemicals, paper, etc.);
Carbon capture and use (CCU);
Construction and operation of carbon capture and storage (CCS);
Innovative renewable energy production;
Energy storage.
The Fund also supports cross-cutting projects for innovative low-carbon solutions that lead to emission reductions in multiple sectors, e.g. through Industrial Symbiosis.
In response to the First Call for Large-Scale Projects, which had a budget of EUR 1 billion for this call, the European Commission received 311 applications for innovative clean technology projects, which promised to reduce carbon emissions by around 1.2 billion tonnes over the period of operation within the Innovation Fund.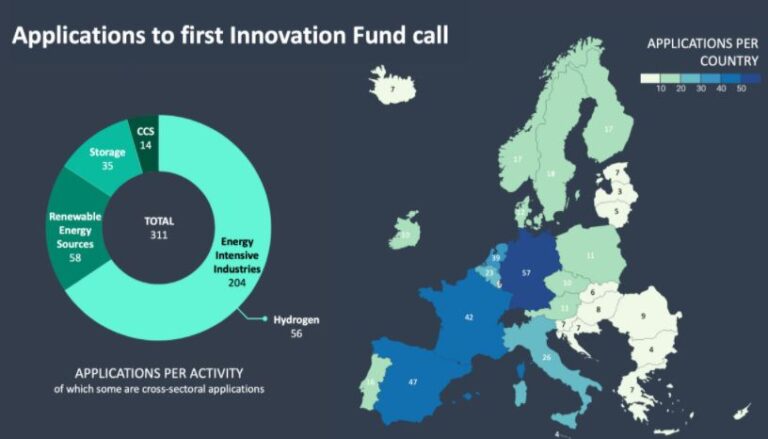 On 1 December 2020, a Second Call for Proposals was launched for a total of EUR 100 million. The new call for small-scale projects, with total capital costs of less than EUR 7.5 million, aims to complement the previous call for large-scale projects in order to provide an opportunity for small and medium-sized enterprises in particular to receive support for their projects.
Participation is open to private entities, public bodies or international organisations, either individually or in partnership, and actions must take place on the territory of one or more EU Member States, Norway or Iceland.
Projects will be assessed on the basis of their avoidance of polluting emissions, innovation potential, financial and technical maturity and potential for expansion and cost-efficiency.
The deadline to participate is 10 March 2021.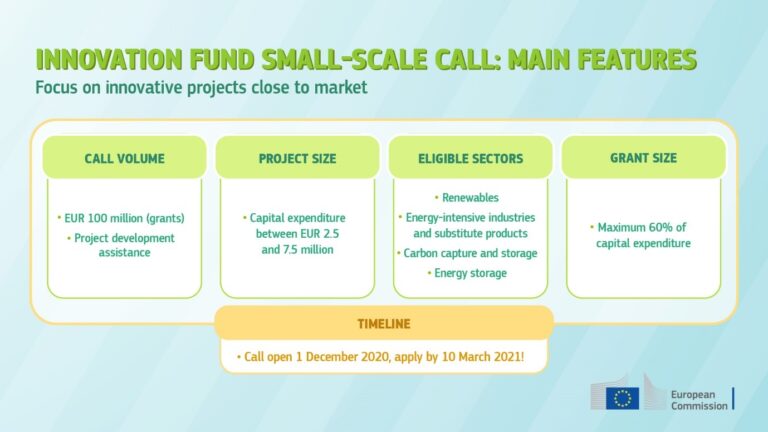 Executive Vice-President Frans Timmermans said:
"This call for proposals comes at exactly the right time. The EU will invest €1 billion in promising, market-ready projects such as clean hydrogen or other low-carbon solutions for energy-intensive industries like steel, cement and chemicals. We will also support energy storage, grid solutions and carbon capture and storage. These large-scale investments will help to kick-start the EU economy and create a green recovery that will bring us to climate neutrality in 2050".